Brandon Schwartz, M.D.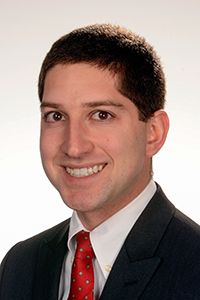 Dr. Schwartz joins Northern Virginia Radiology Consultants as a board certified radiologist with subspecialty training in Musculoskeletal Imaging.
His expertise includes orthopedic imaging with a special focus on sports related injuries, musculoskeletal trauma, image-guided joint injections, and magnetic resonance arthrography. He is also experienced in musculoskeletal nuclear imaging, interpretation of computed tomography, and the performance of ultrasound-guided procedures.
A native of Irondale, Alabama, Dr. Schwartz graduated from the University of Alabama and then went on to obtain his Masters of Public Health in Epidemiology from the University of Alabama at Birmingham. He then earned his medical degree from the University of Maryland School of Medicine in Baltimore. While in medical school, he was elected into the Gold Humanism Honor Society for exemplifying compassionate patient care and leadership. He has since lectured medical students on the importance of humanism in medicine. Dr. Schwartz then returned to Birmingham, Alabama to complete a transitional year internship followed by a four-year Diagnostic Radiology residency at the Brookwood Baptist Health System, where he also served as Chief Resident.
Dr. Schwartz then completed a musculoskeletal imaging fellowship at Alabama Orthopedic Imaging, which is associated with the prestigious Andrews Sports Medicine & Orthopaedic Center. During his fellowship training, he had the opportunity to participate in the care of many high school, college, and world-famous professional athletes.
He has authored and co-authored numerous journal articles and textbook chapters on orthopedics and musculoskeletal imaging. Dr. Schwartz currently resides in Springfield, VA with his wife, children, and two dogs.
Education
BS, University of Alabama, Biological Sciences
MPH, University of Alabama at Birmingham, Epidemiology
MD, University of Maryland School of Medicine
Residency
Diagnostic Radiology, Brookwood Baptist Health System
Fellowship
Musculoskeletal Radiology, Alabama Orthopedic Imaging
Professional Societies