Christina Marks, M.D.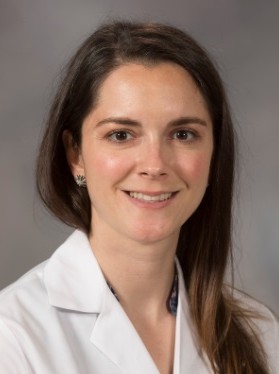 Dr. Marks joins Northern Virginia Radiology Consultants as a board certified Diagnostic Radiologist with dual specialty training in Interventional Radiology and Breast Imaging.
A native of Jackson, Mississippi, Dr. Marks attended the University of Mississippi Medical School, where she received the associated student body student of the year award. She then completed an internal medicine internship followed by Diagnostic Radiology residency at the University of Mississippi Medical Center.  She was awarded the Robert S. Caldwell Memorial Award, the highest award given to a resident for knowledge of medicine, excellence in care, and outstanding record documentation and leadership.  Dr. Marks is currently the only radiology resident to receive this award.
Dr. Marks completed a one-year fellowship in Breast Imaging and Intervention at The George Washington University Hospital.  She is an expert in breast tomosynthesis (3-D mammography), breast ultrasound, breast MRI, molecular breast imaging, and minimally invasive breast procedures including ultrasound guided biopsy, stereotactic guided biopsy, MRI guided biopsy, molecular imaging guided biopsy, and pre-operative needle and radioactive seed localizations.
She then completed a one-year fellowship in Vascular and Interventional radiology at Mallinckrodt Institute of Radiology at Washington University. She specializes in fibroid embolization for symptomatic uterine fibroids, ovarian vein embolization for pelvic congestion syndrome, minimally invasive ablation for renal/liver/lung tumors, venous interventions for deep venous thrombosis and post thrombotic syndrome, chemoembolization/radioembolization for liver tumors, complex inferior vena cava filter removal, transjugular intrahepatic portosystemic shunt placement, and biliary interventions.
As a fellowship trained Breast Imager and Interventional Radiologist, she is passionate about women's health and believes in a patient-centered care. She believes in treating the patient as a whole and not just the imaging findings, allowing her to provide comprehensive and tailored treatments for her patients.
She has published book chapters on breast ultrasound, catheter directed therapy for pulmonary embolism, and deep venous thrombosis.  She has been an invited lecturer at the Southern Radiological Conference for the past two years, speaking on uterine fibroid embolization and inferior vena cava filter placement/removal.  She has also judged the educational exhibits for interventional radiology and taught a breast ultrasound biopsy course at the Radiological Society of North America Meeting for the past two years.
In her free time, she enjoys baking, painting, and traveling.  Dr. Marks lives in Bethesda, Maryland with her husband and son.
Education
BS, Millsaps College: Mathematics and Economics (Magna Cum Laude)
MD, University of Mississippi Medical Center
Residency
Diagnostic Radiology, University of Mississippi Medical Center
Fellowship
Breast Imaging and Intervention, The George Washington University Hospital
Vascular and Interventional Radiology, Mallinckrodt Institute of Radiology at Washington University
Professional Societies
Local Societies