George Kuo, M.D.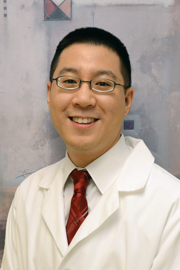 Dr. Kuo joined Northern Virginia Radiology Consultants in January 2011 as a board certified radiologist with dual sub-specialty training in Neuroradiology and Musculoskeletal Radiology. His expertise include the development of novel MR techniques, 3D computed tomography, imaging of sports related injuries, spine imaging, craniofacial imaging, and traumatic injuries of the brain and spine. He has authored numerous journal articles and textbook chapters on topics including imaging of the upper airway, orbital trauma, skeletal muscle, and inflammatory myopathies.
After graduating Magna Cum Laude from Yale University where he was also elected to Phi Beta Kappa, he obtained his medical degree from the Johns Hopkins University School of Medicine. He went on to complete his diagnostic radiology residency and fellowships in Neuoradiology and Musculoskeletal Radiology also at Johns Hopkins, where he had the opportunity to participate in the care of many of Baltimore's professional athletes.
Dr. Kuo was awarded the 2010 Neuroradiology fellow teaching award and maintains adjunct faculty status at Johns Hopkins Hospital in the Russell H. Morgan Department of Radiology and Radiological Science.
Raised in Richmond, Dr. Kuo currently resides in Arlington, VA.
Education
BS, Yale University, Molecular Biophysics and Biochemistry, Magna Cum Laude, Phi Beta Kappa
MD, Johns Hopkins University School of Medicine
Residency
Diagnostic Radiology, Johns Hopkins Hospital
Fellowship
Neuroradiology, Johns Hopkins Hospital
Musculoskeletal Radiology, Johns Hopkins Hospital
Professional Societies