Nisha Sankaran, M.D.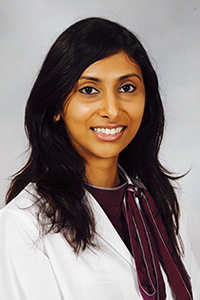 Dr. Sankaran joins Northern Virginia Radiology Consultants as a Diagnostic Radiologist with subspecialty training in Neuroradiology.
Dr. Sankaran earned her medical degree from Saint Petersburg State Pediatric Academy in Saint Petersburg, Russia where she graduated with highest accolades and honors.  She was awarded the Most Valuable Medical Student Award for contributions in leadership and mentorship in her medical school.
She then completed her internship year, followed by a research year and diagnostic radiology residency at the University of Mississippi Medical Center.  She also served as a Chief Resident for 2 years in the Department of Radiology and actively participated in various leadership and quality assurance committees at the departmental as well as institutional level.
Dr. Sankaran went on to complete fellowship training in Diagnostic Neuroradiology at Johns Hopkins University Hospital.
Dr. Sankaran was one of 10 residents/fellows to receive the Radiology Leadership Institute (RLI) Scholarship Award in 2018. She is an active member of the American College of Radiology RLI 'Resident and Young Physicians Leadership Summit' Planning Committee.
Dr. Sankaran has interest in stroke imaging, spine imaging, brain tumor imaging, and traumatic injuries of the brain and spine.   She has published multiple journal articles on spine and stroke related imaging.
In her free time, she enjoys traveling, baking, hiking and music.  Dr. Sankaran currently resides in Bethesda, Maryland with her husband, son and 2 dogs.
Education
MD, Saint Petersburg State Pediatric Medical Academy
Residency
Diagnostic Radiology, University of Mississippi Medical Center
Fellowship
Neuroradiology, Johns Hopkins University Hospital
Professional Societies
American Roentgen Ray Society
Local Societies