Our Radiologists named among Top Doctors in 2012 by The Washingtonian magazine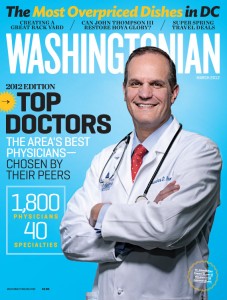 Drs. Fred Schwab, Stanley Washington, and Russ McWey were named Top Doctors in the Washington Metropolitan Area by The Washingtonian magazine in the March 2012 issue.  Drs. Schwab, Washington, and McWey, each Interventional Radiologists with NVRC, were all named as a Top Doctor in the category of Interventional Radiology.
Dr. Schwab's interests include endograft placement for the treatment of abdominal aortic aneurysm, peripheral arterial disease, and hepatic artery chemoembolization.
Dr. Washington's interests include endovascular treatment of uterine fibroids, treatment of pelvic vein congestion syndrome, as well as endovascular treatment of both thoracic and abdominal aortic aneurysms.
Dr. McWey's interests include TIPS, hepatic artery chemoembolization, biliary and vascular stents, as well as in the treatment of varicose vein diseases.
You can learn more about Drs. Schwab, Washington, and McWey, along with our other health professionals in Our Radiologists.